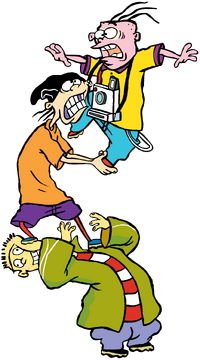 The Camera was first seen in "Quick Shot Ed." It is a typical white camera with a flash.
It was found by Eddy in his attic when the Eds were playing around in there. After quickly hatching a scam idea, Eddy decided to take pictures of all the neighborhood kids for their Cul-de-Sac Calendar scam. However, by doing so, they disturbed the kids and made them angry and/or injured. Eventually, they were noticed by the Kankers while trying to take a photo of them, and were abducted to become their fashion victims. Later, Sarah made a calendar by using the dressed up Eds' photos to make them laughingstocks for all to see.
Trivia
The camera is an Instant Camera, as it has the ability to take pictures and develop them immediately.

It appears to be modeled after a Polaroid SX-70 Model 2 camera.
Gallery
See also
Ad blocker interference detected!
Wikia is a free-to-use site that makes money from advertising. We have a modified experience for viewers using ad blockers

Wikia is not accessible if you've made further modifications. Remove the custom ad blocker rule(s) and the page will load as expected.