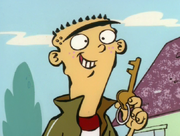 Ed's Key is an item that was only seen in "Key to My Ed." Edd found the key and suggested that the Eds return it to its owner. Eddy, however, wanted to see what it opened, but he failed on numerous occasions to find out. Eddy eventually gave up and decided to hold the key for ransom. In the end, this led to a brawl, as none of the kids cared about the key, and all instead attacked each other over various items they were missing. The rumble attracted the Kankers, who chased the Eds to Ed's house. There, the Eds realized that the key belonged to Ed and it had fallen out of his pocket. The key opens his back door, and probably the rest of the doors in Ed's house.
Things the Eds tried to open with the key
Ad blocker interference detected!
Wikia is a free-to-use site that makes money from advertising. We have a modified experience for viewers using ad blockers

Wikia is not accessible if you've made further modifications. Remove the custom ad blocker rule(s) and the page will load as expected.