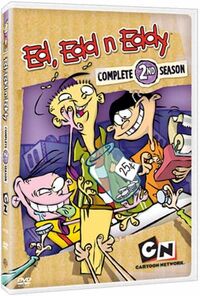 Ed, Edd n Eddy - The Complete Second Season is a DVD compilation of Season 2 of Ed, Edd n Eddy. Currently, this is the last season to be released on DVD in North America: the Complete Third, Fourth and Fifth Season DVDs were exclusively released in Thailand. Western audiences can only access downloads of the subsequent seasons via iTunes and Amazon.
Episodes
Bonus Features
See also
Ad blocker interference detected!
Wikia is a free-to-use site that makes money from advertising. We have a modified experience for viewers using ad blockers

Wikia is not accessible if you've made further modifications. Remove the custom ad blocker rule(s) and the page will load as expected.