Edtropolis.com
, formerly called
The Ed, Edd n Eddy Zone
, was one of the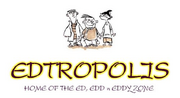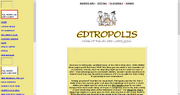 most popular
Ed, Edd n Eddy
fansites on the web. It was created in 1999 and was "nurtured & maintained" by
Kit R.R. Topp
and
ZephyrSamba
. Edtropolis.com was a holistic Ed, Edd n Eddy website, containing episode guides, character biographies, information on Peach Creek, and fan-made works like a fictional newspaper. It also has a message board called Earth 2 Edd, which has over 200 members.
Edtropolis.com was operational for 11 years, but has changed location ever since September of 2010. As of 2016, the site is still "under construction" and has not yet opened to the public, with updates still pending.
The website, before it was moved to a new location, can be viewed on an internet archive machine.
Earth 2 Edd
Earth 2 Edd (sometimes shortened as E2E) is the official message board/forum of Edtropolis.com. The site has been hosted by InvisionFree.com since late 2009. Although Edtropolis.com has moved, the forum still exists. Currently, there are over 200 registered members on the forum and there is an active community of over 20 active or semi-active members. There is one subforum that is inaccessible to unregistered users.
Trivia
The episode "Here's Mud in Your Ed" was inspired by an idea from Kit Topp, from Edtropolis.com.
The name "Edtropolis" comes from the cardboard city of "Edtropolis" that the Eds built in the episode "Urban Ed."
Edtropolis.com was also home to the fictional newspaper The Gravy Inquirer.
The Kids' Choice Awards was once announced on the website; in 2005, Edtropolis.com started a campaign to get

visitors to the site to vote for Ed, Edd n Eddy in the polls.
External links