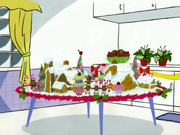 Jimmy's Holly Jolly Christmas Village
is a gingerbread village of tasty treats that
Jimmy
apparently makes around Christmastime. It was seen in
Ed, Edd n Eddy's Jingle Jingle Jangle
as part of the Christmas festivities in
Jimmy's house
.
The village takes up an entire round kitchen table, and is composed of several gingerbread houses and gingerbread men. The houses and men are tastefully furnished with an abundance of delicious decorative treats, from the basic white frosting to several gumdrops, lollipops and other colored candies. In addition, many of the gingerbread men are dressed like sailors. According to Jimmy, this is because they are "gingerbread sailors out on a sugar-glazed shore leave."
The village was only seen for a short time in the Christmas special, when Jimmy was showing it off to Eddy the Christmas Angel when he fooled Jimmy into believing that he became an angel at Christmastime. However, the village was soon destroyed, as Eddy devoured the whole thing. Unfortunately for Eddy, this blew his cover as an angel, and Jimmy called Sarah to kick him out.
Gallery
Ad blocker interference detected!
Wikia is a free-to-use site that makes money from advertising. We have a modified experience for viewers using ad blockers

Wikia is not accessible if you've made further modifications. Remove the custom ad blocker rule(s) and the page will load as expected.