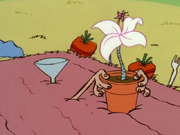 The Potted Shrub of Ridicule is a small potted plant seen in "Dueling Eds." Giving the Potted Shrub of Ridicule is a way of conveying an insult in Rolf's homeland. When a shrub (or strange looking pink flower; indeed, perhaps any potted plant) is given to a person, it is perceived as a form of mockery. Like most of Rolf's bizarre traditions, it is unknown how or why it is interpreted as such.
Edd gave this plant to Eddy, forcing him to give it to Rolf as consolation, unaware of its true meaning in Rolf's traditions. The presenting of this insult was also what pushed Rolf over the edge. After he received it, he promptly slammed it on top of Eddy's head, then challenged him to The Fish Duel. The Potted Shrub of Ridicule was not mentioned or seen in any future episodes.
Ad blocker interference detected!
Wikia is a free-to-use site that makes money from advertising. We have a modified experience for viewers using ad blockers

Wikia is not accessible if you've made further modifications. Remove the custom ad blocker rule(s) and the page will load as expected.