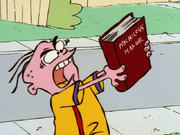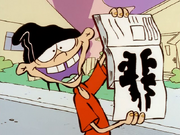 Not to be confused with the Reverse Psychology Manual.
The Psychology Manual is a book that appeared only in "Look Into My Eds." This book includes Rorschach tests to visual the first thing that comes to people's minds (to prove if they are "psychologically normal"). It is famous for containing the Hypnotizing Wheel, which Eddy and the other Eds used to hypnotize the kids in the same episode. The famous wheel also appeared in "The Good Ol' Ed," when Edd was building the Time Capsule and burying the wheel, but the book was not seen in the capsule. It is possible that Edd did not want to part with it; after all, when he got the book in the mail, what he was interested in was the psychology manual, not the hypnotizing wheel.
Appearances
Ad blocker interference detected!
Wikia is a free-to-use site that makes money from advertising. We have a modified experience for viewers using ad blockers

Wikia is not accessible if you've made further modifications. Remove the custom ad blocker rule(s) and the page will load as expected.