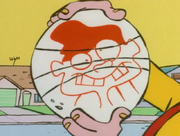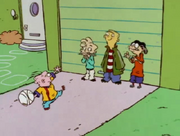 The Dodgeball Incident
was an event that happened to
Edd
in the past. This event was first referenced in the episode
"Ed in a Halfshell."
The incident is not seen in the series, but according to Edd he seemed to have been injured and/or humiliated during a game of dodgeball, and he has since feared going to gym class. In fact, the threat of playing dodgeball frightened Edd immensely, and when
Eddy
was ready to throw the ball at him, he collapsed to the ground, catatonic. Although he is seen in gym class in
Ed, Edd n Eddy's Hanky Panky Hullabaloo
and in the episode
"Cool Hand Ed,"
 he often seems nervous. The Dodgeball Incident is probably the reason why Edd hates most sports, if not just one of many reasons.
Quote
Edd: "Eddy, wait! I-I have a history with this game. I-what's that? Deep flashes, Eddy, like tentacles! Strangulating every rational nerve! Oh, I'm reliving it, Eddy!"
Eddy: [shows ball with bucktooth Edd drawing on it] "But's it's got your face on it, Double D."
Edd: "Listen to me, Eddy!" [Eddy prepares to throw the ball] "Eddy?! It's gym class all over again!" [wails]
--From "Ed in a Halfshell"
Trivia
Although many theories have been suggested as to what happened, none have been confirmed.