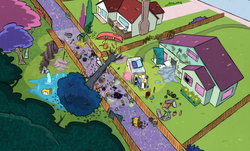 The Lane
is the alleyway that separates
the Cul-de-Sac
from the
playground
and the
Construction Site
. It is also the primary hangout for
the kids
. Bordered by a tall fence, it is the scene of many scams such as
Edtropolis
in
"Urban Ed"
and the
Toll Moat
in
"A Boy and His Ed."
 Most of
the Eds
' scams take place here.
In "Mission Ed-Possible," Sarah and Jimmy's After-School Carnival takes place here. This is also where Kevin usually shows off his abilities and skateboarding tricks as seen in "See No Ed" and "Mission Ed-Possible." In Ed, Edd n Eddy's Big Picture Show, a large portion of the Lane was destroyed due to one of the Eds' scams going horribly wrong.
Gallery
Ad blocker interference detected!
Wikia is a free-to-use site that makes money from advertising. We have a modified experience for viewers using ad blockers

Wikia is not accessible if you've made further modifications. Remove the custom ad blocker rule(s) and the page will load as expected.