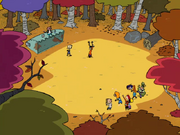 The Pit (not to be confused with The Kanker Pit) is a small clearing in the middle of the woods near Peach Creek Jr. High where the kids hang out after school. It was only seen in "A Fistful of Ed" when Edd and Jimmy fought to try and restore Edd's former reputation. There is also an abandoned front loader in the Pit. It might be located in close proximity to the trailer park, as it took the Kankers a remarkably short amount of time to arrive at the Pit when the Edd vs. Jimmy fight was over.
Trivia
The Pit isn't actually a hole, rather a small clearing in the woods behind the school. It's likely that the name is a pun for the pit of a peach, seeing as how it's located in Peach Creek.
It is unknown if the teachers/school staff are aware of the Pit's existence as they've never made attempts to make it off-limits, assuming it's on campus (the Pit might be off school grounds, and thus the school can't actually do anything about it).
See also
Ad blocker interference detected!
Wikia is a free-to-use site that makes money from advertising. We have a modified experience for viewers using ad blockers

Wikia is not accessible if you've made further modifications. Remove the custom ad blocker rule(s) and the page will load as expected.