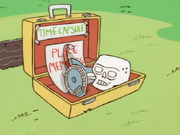 The Time Capsule was an idea of Edd's in "The Good Ol' Ed" to take some of the old things from previous episodes of the show and bury them to be discovered in the future.
Items in the Capsule
Below is a list of some of the items in the time capsule, and the episode they came from. The Eds made up some of the events that related to some of the items.
See Also