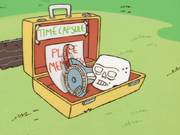 The Time Capsule was Edd's idea in "The Good Ol' Ed" to take some of the old things from previous episodes of the show and bury them to be discovered in the future.
Items in the Capsule
Below is a list of some of the items in the time capsule, and the episode they came from. The Eds made up some of the events that related to some of the items.
See also
Ad blocker interference detected!
Wikia is a free-to-use site that makes money from advertising. We have a modified experience for viewers using ad blockers

Wikia is not accessible if you've made further modifications. Remove the custom ad blocker rule(s) and the page will load as expected.