Inkscape is a free vector image creation software, similar to Adobe Illustrator. If some of us here could learn it, we could recreate the PNG's of the kids to much higher quality. It would also lighten the workload on SBolton :-). As a video game design student, I'm trying to learn as many industry standard software's I can, including this one. Here's the first character I've recreated, it's Travis of the Cosmos from Aqua Teen Hunger Force.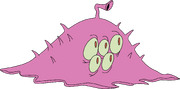 Ad blocker interference detected!
Wikia is a free-to-use site that makes money from advertising. We have a modified experience for viewers using ad blockers

Wikia is not accessible if you've made further modifications. Remove the custom ad blocker rule(s) and the page will load as expected.