I originally made this on the watercooler forums (http://ed.wikia.com/wiki/Forum:Remember_this%3F), but I released that was a not a good place to put it, so I decided to move it here instead.
For those of you don't know, this image originated from a CN ad from early 2000's but I've got to say that this would be hilarious out of context. I just think it's funny and well edited.
P.S. Sorry for the low quality photo but it was the best one I could find.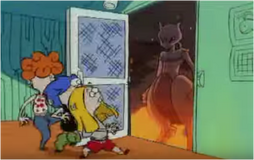 Ad blocker interference detected!
Wikia is a free-to-use site that makes money from advertising. We have a modified experience for viewers using ad blockers

Wikia is not accessible if you've made further modifications. Remove the custom ad blocker rule(s) and the page will load as expected.