UPDATE: Contest is now over – User:IbraheemSajid has guessed the correct city.
I see that almost everybody has been doing a contest of some sort, so I'll jump on the bandwagon.
Whoever can guess what city is shown in the following aerial image will win a User Gift.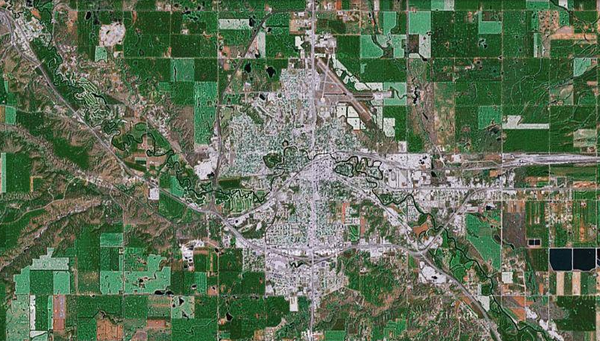 Rules:
You have, in total, five guesses. If you choose to guess more than once in your post, each guess will count to your overall guess-count.
Your guess needs to be a legit city that exists. It can't be fictional or otherwise not real.
Your guess needs to be a city – not a region, metropolis, state, etc. You may, however, also include the name of the state the city is in when you guess it.
Hints:
The city is in the United States of America, and in the Great Plains area.
The city is within the top five largest cities in its state.
The population of this city is under 100,000.
The borders of the state this city is in are mostly straight lines.
Ad blocker interference detected!
Wikia is a free-to-use site that makes money from advertising. We have a modified experience for viewers using ad blockers

Wikia is not accessible if you've made further modifications. Remove the custom ad blocker rule(s) and the page will load as expected.