For the person of the same name, see Yeshmiyek.
The song of Yeshmiyek is sang by Rolf in the holiday special Ed, Edd n Eddy's Jingle Jingle Jangle, meant to celebrate the bearded woman known as Yeshmiyek who lives in the center of the earth. She is part of an old country tradition that says a lot about the popularity of produce, especially meat, in the old country.
Lyrics
Rolf: Deep below the dirt and rocks there lives the bearded maiden fair
Whose kitchen pot is bigger than her size of underwear…Hey!
Yeshmiyek who peels the root and grinds the sausage with her boot!
Yeshmiyek who cures the meat and stuffs the fruits and sugared beets!
Yeshmiyek who salts the pork and stabs it with her silver fork!
Yeshmiyek who cuts the cheese and gives the loaf of bread a squeeeeze!
But should your chores be never done your feeble arms too weak to toil
Yeshmiyek will surely come… and throw you in the pot to boil!
…Yeshmiyek who smokes the fish and lays a slab on every dish!
Yeshmiyek who guts the hare and seasons it with special care!
Eddy: [interrupting the song] "Hold it, hold it, hold it!"
Rolf: "Rolf does not take requests, Ed-boy, sorry."
Eddy: "So when do I rake in on the cool presents?"
Rolf: "Presents? What presents?"
[Rolf continues his song. Eddy, unimpressed, stares directly into the camera and decides to leave.]
Rolf: Yeshmiyek who bastes the lamb and spits the glaze on every ham!
Yeshmiyek who bakes the strudel pickles feet and strings the noodle!
Yeshmiyek who– [The song is cut off by Eddy shutting the door.]
Video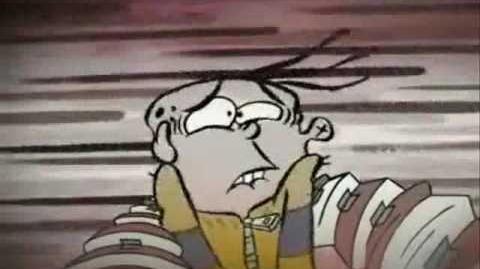 Ad blocker interference detected!
Wikia is a free-to-use site that makes money from advertising. We have a modified experience for viewers using ad blockers

Wikia is not accessible if you've made further modifications. Remove the custom ad blocker rule(s) and the page will load as expected.